Storytelling Jewellery
23 April, 2021
What characterizes Celine Daoust Jewellery ? Without a doubt, a beauty that is always intimate, an infinity of delicate creations which are shaped according to the inspirations and intuitions of Céline. For her, jewels are like a second skin that we appropriate and become ours.
Between gold and irregular coloured gemstones, Céline lets this creative tree evolve through her multiple collections. Each collection reaffirms a facet of the jewel, giving them a unique character.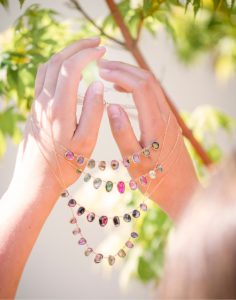 Creations with universal symbols, the Mandala collection offers spiritual figures with cut out gold details and a symmetrical aesthetic that calls for mediation.
Nature reclaims its rights with the collection From the Earth, where sacred animals such as the snake and the scarab are honoured, enhanced by white diamonds encrusted in gold.
Touching on the celestial with Stars & Universe to take us sparkle with the stars. Constellations of finely set diamonds celebrate our universe and our sun.
Exceptional pieces, the One of a Kind are fine gemstones carefully selected by Celine to offer each jewel a unique story. Irregularly cut and slightly faceted, tourmaline and its infinite palette of colours are in the spotlight.
A tribute to grey diamonds, Slice of the Universe reveals a world inscribed in each stone. Once considered impure, each piece of jewellery reveals all the magnificence of naturally tinted grey diamonds.
Talismans endowed with a protective soul, Guardian Spirit jewels, set with triangular gemstones and baguette diamonds evoke the ancestral amulets that guard over us.
Carriers of the third eye, the Protection & Believes jewels refer to the Anja eye, with divine powers, omnipresent in the Indian culture. Cut into diamond or tourmaline, the eye brings protection and universal wisdom to Celine Daoust creations.
---