CARE GUIDE
A piece of jewellery is a precious companion for that magical every day sparkle. It should be worn and follow you wherever you go.
We have brought together a care guide just below so that your jewels can last forever!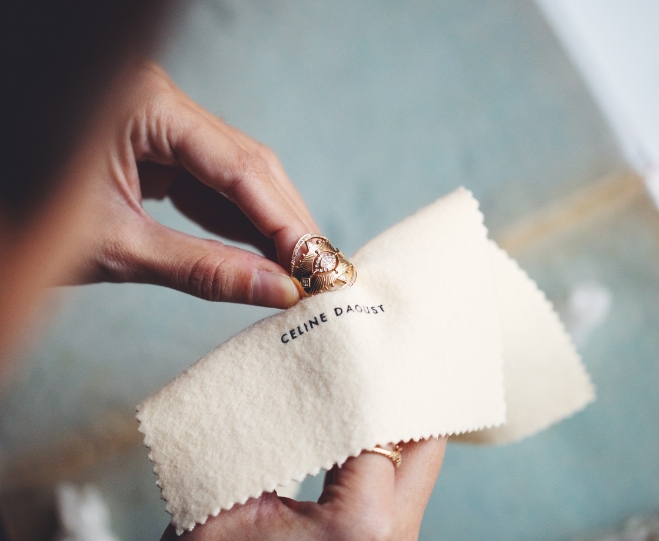 CUSTOMER
SERVICE
In the case of a more specific maintenance or repair, our customer service is here for you!

We will examine your jewel in the expert hands of our jeweler or those of the creators themselves, to repair most incidents.
Find your ring size

To find your ring size, we invite you to print our guide below and follow the instructions.

How to keep your JEWELLERY sparkling?

Remove your jewellery before showering or washing your hand. Shampoo residues, soap, cream, and such other components can tarnish your jewelry or weaken the settings. We advise you to remove your jewellery when going to the pool. Do not immerge your jewellery into seawater either.

Your precious stones dislike dirt, perspiration, or flour for that matter. If Hydroalcoholic gel has become our new best friend, it is not so friendly with our golden treasures. Use it before stacking your gold. This also goes for sunscreen and perfume. Keep away from any harsh chemical or abrasive products.
How to store your parure

Keep your jewellery in a safe and dry place like their box when going to bed. Store your jewels apart from each other to avoid any scratching or tangling.
How to clean your 14ct gold jewels?

We offer a free cleaning service with an ultrasound device to our clients. Don't hesitate to come by our boutiques in Brussels and Paris!

If this option is unavailable to you, from home you can also use a special cloth (available in our boutique and our web-shop) to revive the shine of the gold.
Customer Service

For a more specific maintenance or repair, we are here for you! We will put your jewel in the expert hands of our jeweler or those of the creators themselves, to repair most incidents.

You can drop off your jewelry in our Brussels and Paris boutiques where we will study the feasibility of the repair together. If a shipment is necessary, it will be important to contact us in advance by email to the customer service.

care@celinedaoust.com