Our Queen of Gemstone, Tourmaline!
15 October, 2021
Autumn has just begun. We have put away our beach clothing. Light fabrics are being replaced by thicker knits. The dense blue night sky starts already in the afternoon. The leaves are already crunching under our feet and the breeze is getting cooler. It is the time of a renewal, a new cycle is underway. But for the time being, we still want colours, energy and dream of pastel shades and azure water.
It is therefore no coincidence that tourmaline is the stone of October. We want to keep a little warmth in our hearts, to capture its deliciously candy-colours and comforting tones to welcome the forthcoming winter months.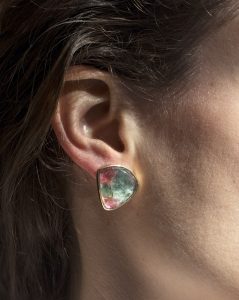 Tourmaline is our favourite gemstone. It is perfectly imperfect. Unexpected in its characteristic colours and full of stimulating energy. We carefully select our heart stone for each of our jewels. Our criterion: intuition. Above all, we choose a stone because it has spoken to us in its own way and we want it to do the same for you.
We love it for its natural inclusions and its ingenious combinations of rainbows of light that only Mother Nature can create. Vibrant pink, dazzling green and turquoise blue are all shades that seem to change constantly as we look at them. Each shade has its own virtues that are reminiscent of the chakras that are so dear to us.
Watermelon tourmaline balances the heart and our masculine and feminine energies. Blue tourmaline stimulates the exploration of the mind and tranquillity, while pink tourmaline favours the relationship with oneself and others. Finally, green tourmaline enhances serenity and gratitude..
Therefore, embrace the tourmaline that attracts you. Choose your stone or let it choose you; above all, be guided by your intuition. Love it, wear it against your skin, and when months will seem too long, its light will irradiate you with all its benefits..
---