A Journey to the Pink City
12 March, 2021
Ever since she was a child, Céline has always had a passion for crystals and their energetic powers. She trained as a goldsmith while developing her vision of creating jewels that carry the history and symbols of the universe such as totems, evoking the sacred aspects of the world.
The history of the brand takes life thousands of kilometers from Brussels, in Jaipur, where the magic began. Indian culture gives meaning and life to stones and crystals – minded from the ocre coloured soil, irremediably bearing the earth memory. Jaipur resonates for many connoisseurs as the Pink City where gemstones are the finest.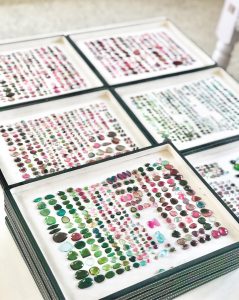 Céline's love for stones and Crystal Healing – taught to her by her mother – is what drives her to puts each stone in the center of her creations, to reveal their refined and delicate properties.
Nevertheless in constant search of inspiration, Céline thirsts for new horizons. She wishes to find the stones with energetic powers that her mother always spoke of. Therefore, Céline embarked on a journey to the land of the Maharajas, to Jaipur, where it seems the gemstones are the most beautiful.
Céline selects every individual stone with care and attention to reveal their uniqueness. Tourmalines and Grey Diamonds are among Céline's favorite stones ; she likes to highlight their beauty through their unique imperfections.
She loves them irregular, sometimes raw, giving each of them the opportunity to reveal their subtle facets that catch and reflect light.
---