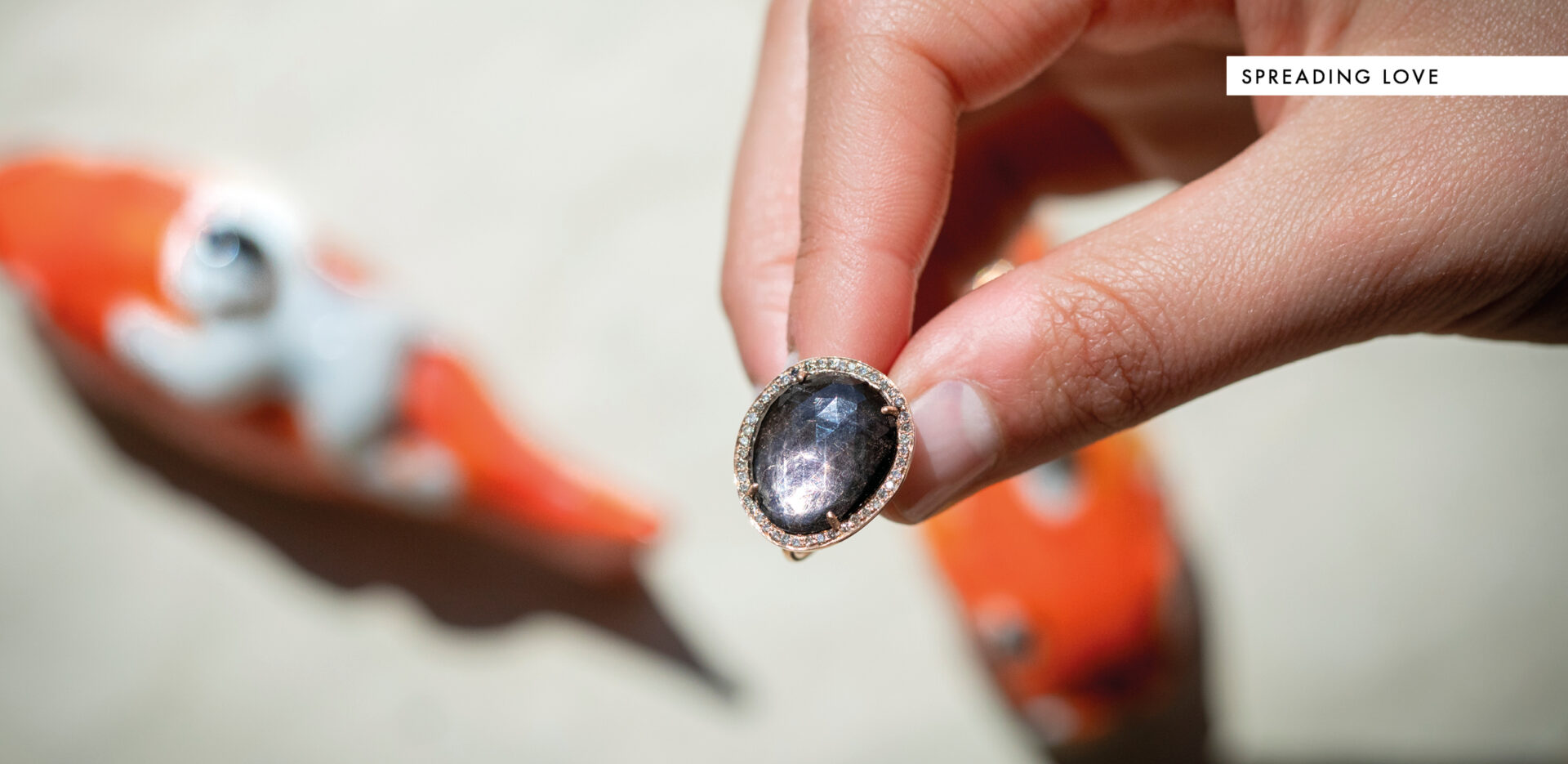 ENGAGEMENT RINGS
10 June, 2021


The engagement ring has evolved over the centuries. Originating in ancient Egypt, it was a simple ring carved in stone in the shape of a snake, symbolizing universal protection of living beings and the cosmos. The ring was exchanged between young lovers as a promise to protect each other eternally.
Three thousand years later, in the Middle Ages, the engagement ring was adorned with precious stones and diamonds to become the materialization of a solemn union and a pledge of family prestige. It was worn on the third finger of the left hand, the one from which a line was directly linked to the heart.
But it is during the Renaissance period and until the 18th century that the engagement ring shows all its prestige. It became a real piece of art thanks to the evolution of new technical prowess and the discovery of new countries rich in precious stones. In addition, the wedding ring also appeared to distinguish itself from the more sober and refined engagement ring, which was given at the wedding ceremony.

Today, the engagement ring has not lost its charm. Synonymous with good omens, it still represents a strong symbol for lovers : the concretization of an everlasting love and the promise of an eternal union.
Saying, "I do" with a singular ring that resembles you, that is the designer's wish. Céline has designed them to reflect a relationship : unique, precious, but above all to convey, each in its own way, the same message announcing a sacred union.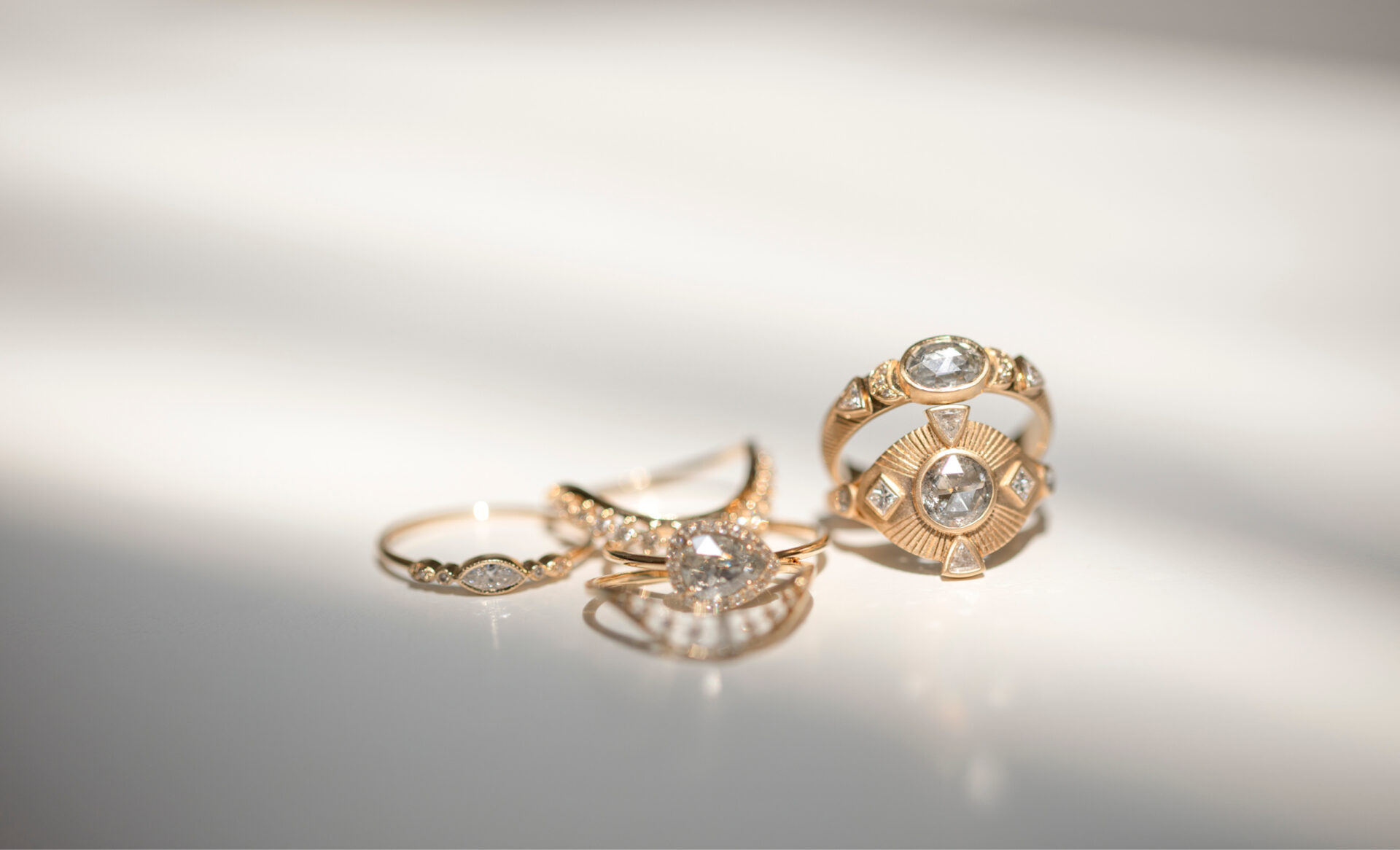 The Celine Daoust engagement ring is the result of a subtle combination of tradition and modernity, playing with contrasting touches, colours and sometimes symbols, so precious to the designer. Each ring is composed of carefully selected gemstones, always mounted on a thin ring band and set with several diamonds in white or champagne colours. For more lightness and comfort, Celine Daoust offers many models to make each union shine in its own way.
" THE ONLY RULE WHEN CHOOSING AN ENGAGEMENT RING IS THAT IT SOULD REFLECT YOU ABOVE ALL. "


ALL GOLD AND DIAMONDS, TIMELESSNESS
White diamonds bring luminosity and timelessness. Elegant and delicate, they are easy to wear and to match with other jewels. Our favourites : the Eye ring, on which delicate diamonds set on the ring band complements a luminous central diamond. For additional sparkle, our Kate ring reveals two circles of diamonds encrusted on a gold plate.
A TOUCH OF COLOUR, THE VIBRATION
Tourmaline and sapphire are in the spotlight ! Each ring is unique and each stone has been carefully selected and hand-cut. The "One of a Kind" as we call them, offer a soft colour and are accompanied by multiple diamonds to bring brightness and preciousness to the stone. Our signature pieces : the Stella ring, a central stone surrounded by a fine line of diamonds, to offer grace and finesse. For the classic ones with a touch of originality, our six diamond ring.
Captured between three diamonds on both sides, the coloured central stone offers us its natural colour shades. The unique Protection ring is crowned with two diamond eyes. The central stone enhanced with a protective symbol, a figure that Céline is so fond of.
A GREY DIAMOND, THE GALAXY
For lovers of the black and white palette, we offer our gemstone models with our finest selection of grey diamonds. Once considered impure, Céline sublimates them ; accompanied by white diamonds. Like a universe on your finger, each design, naturally encrusted, tells its own story and responds to a part of the space. You will find our Stella ring in grey, surrounded by a line of white diamonds, like stars frozen for eternity. Our six-diamond rings or the unique, irregular Protection ring with two luminous eyes on the ring band.

The wedding rings designed by Céline are to be delicate and elegant to beautifully match the engagement rings. Straight and thin or slightly curved, they crown and marry with Celine Daoust engagement rings. Create your own combination or simply go for elegance and simplicity.
" THE WEDDING RING UNITES HARMONIOUSLY WITH THE ENGAGEMENT RING TO BECOME ONE. "